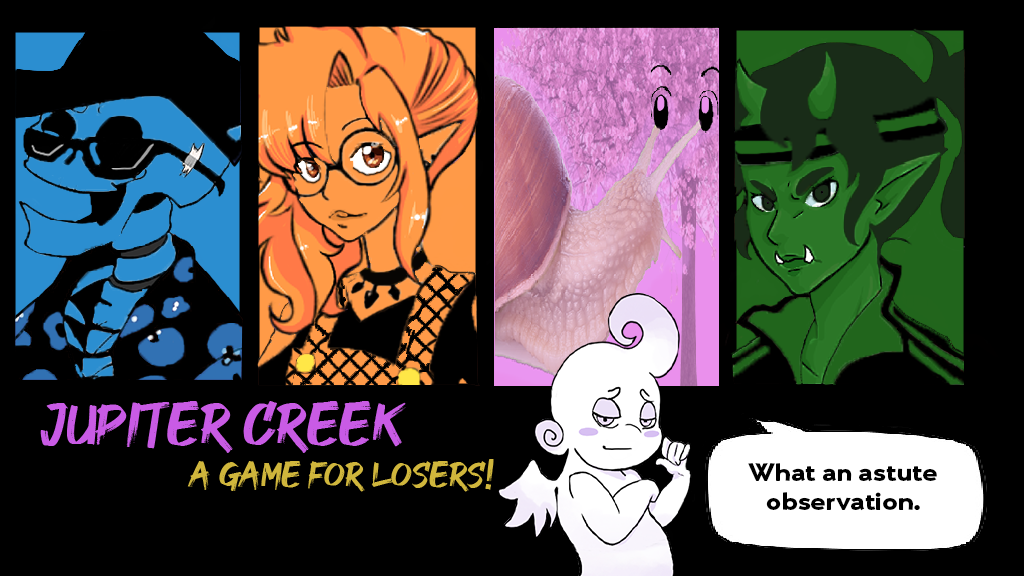 Jupiter Creek - A Game For Losers DEMO
A downloadable game for Windows and macOS
https://www.kickstarter.com/projects/youngdiogenes/jupiter-creek-a-game-for-losers
Full Game Features:
5+ Routes with Romance/Friendship Variations
Multiple Endings
Tons of Fun, Wacky Characters
Enough words to make a salad
10-20 Hour playtime
Skeletons, Snails, Dwarfs, Orcs, Robots. If it's weird, it's probably here.
Jupiter Creek is a Visual Novel following Slater, a troubled youth sent into the care of a new foster family for their final year of high school. You play their Conscience, with what a barbed wit, you must help guide Slater into following the right path in life and truly help and improve themselves for their final year.
The Demo features 5 different scenes from various points of the first act. This is to give the player a flavour for what type of story you're playing!
Jupiter Creek is a story of Friendship, Love, Depression and more in this wild, crazy ride.
Enjoy the journey.

Two Saves are left on the demo. One for the Scene Choice and another for the Ending.
If you would like to follow the progress of Jupiter Creek, follow my twitter.
Comments
Log in with itch.io to leave a comment.
Will their be a kickstarter? Am patiently waiting to hear more news!
Hopefully the Kickstarter should be live in a couple of days! Stay tuned to watch it drop!